Meet Tellar!
As 2022 draws to an end, it's common to reflect upon the year. For orphaned animals, this year has been no different than past years. With increased education, the availability of low-cost veterinary services and an accelerated movement to value domestic pets, we still experience disappointing numbers of highly adoptable pets being euthanized each year.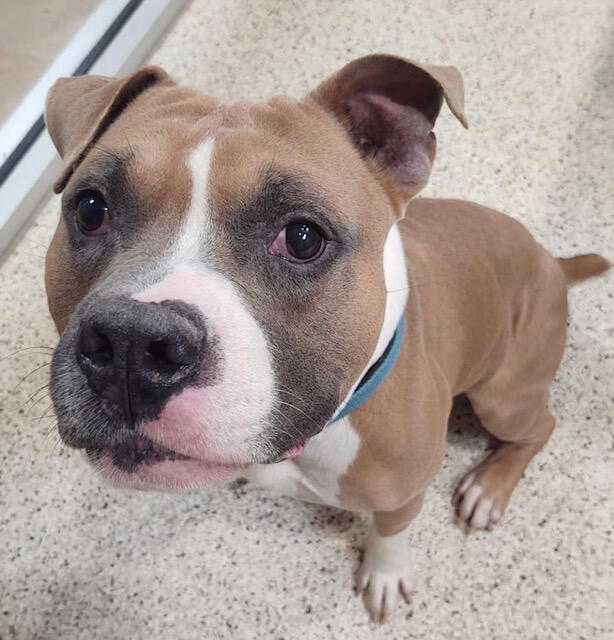 Just as animals become orphans, so do people. In fact, nearly 3 million people in the United States will experience homelessness this year. It's not uncommon for these people to be accompanied by a pet companion. The psychological and physical impact of homelessness is a matter of concern for humans and animals, alike.
Usually, temporary housing does not permit domestic pets to stay with their owners. Separation from a pet companion creates significant distress and it's heartbreaking to witness. Many of these beloved pets end up in shelters. If not adopted, time, euthanasia has become the remedy for shelters imposing time constraints or experiencing overpopulation.
Tellar meets all the standards for successful adoption. He is happy and healthy. He loves people and toys keep this fun-loving boy entertained. Unfortunately, Tellar is all dressed up with nowhere to go. This fine 4-year-old boy is hoping to find his forever home for the holidays. Weighing in at 55 pounds, Tellar is short and stout. Thought to be a terrier mix-breed boy, he's adorable to look at and even more, fun to interact with. Don't delay … adopt our deserving Tellar, today!
Interested in adoption? Call 234-706-5501. Pets are fully vetted, spay/neutered. Pay It Forward for Pets is a 501c3 nonprofit organization. Tax-deductible donations can be sent to 751 Delaware Ave., Akron, OH 44303. Visit us at www.payitforwardforpets.org